Los Altos And Wilson Unite For A Good Cause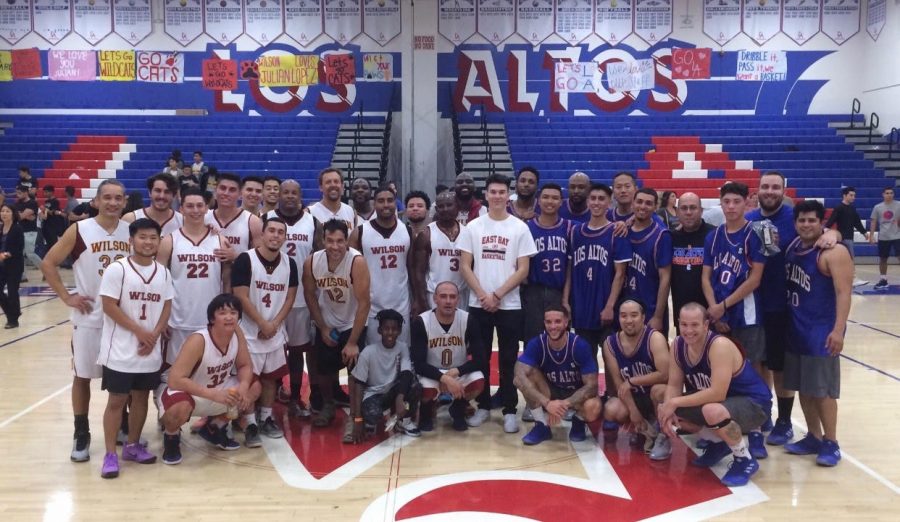 Briana Beverly Munoz
November 9, 2018
The crowd was intense as both the Los Altos and Wilson Staffulty, and alumni game went head to head in a basketball fundraiser, for graduate of Los Altos Julian Lopez.
Staff went on to play first with cross town rivals the Wilson wildcats. Falling short the Conqueror staff tried their ultimate best. The game lasted for two quarters making it a 40 minute game.
Senior Eddie Morales said, "I loved seeing my favorite teachers and staff compete against our rivals. I liked seeing Panagos and Holbrook shoot a couple threes."
As the staff game ended the announcers got a chance to introduce the girls, and the boys basketball team. When they called out the teammates they also gave a little background of each player, and how long they have been playing for.
Senior Andre Lagrosa said, "I think that the announcement ceremony was very interesting about how they showed the school who was going to be on varsity that year."
The halftime performance featured the 2018-2019 basketball teams for both boys, and girls really had the crowd , and conqueror crazies excited and hyped.
Knowing these teams are in the high ranked division many Conqueror Crazies will be joining the splash zone at every home game.
A couple participants who purchased 50/50 tickets got a chance to win prizes such as Adidas gear, and other cool prizes as well.
Morales said, "I like hearing raffle numbers being called throughout the game. It gets me kinda excited to see who will win."
Throughout the game there were volunteer workers calling out the 50/50 ticket winner. All the proceeds of the night all went to help cover for Lopez Medical expenses.
Lagrosa said, "I think both Wilson and Los altos were being considerate in helping out with Julian's expenses. It just comes to show that even though we are rivals with Wilson they are always willing to help one of our students."
At the end of the Alumni Game he had a chance to thank all of those from the community for showing up. The night ended with positivity, and good vibes for both teams. Both schools combined as one to take a  group photo with former Alumni Julian Lopez.