Conquerors Fall Short of Comeback vs West Covina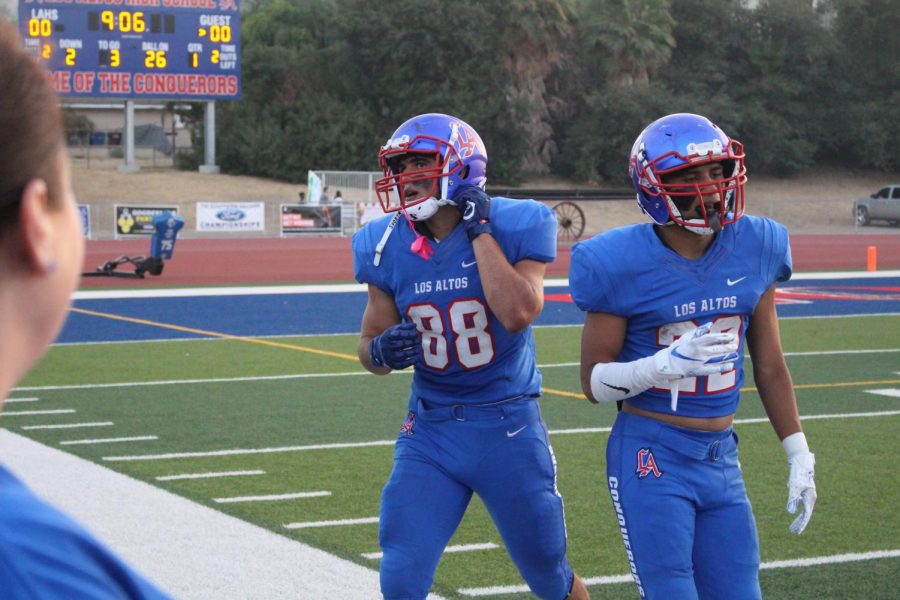 Damien Alvarado
October 26, 2018
The Conquerors finished off the regular season against the West Covina Bulldogs. This game was plagued with flags and bad calls which pit the Conquerors in a deep hole early on.
Los Altos went into the game knowing that a win would secure a playoff spot while a loss would leave them on the outside looking in. Los Altos offense was stalled on their first drive and the Conquerors defense had no answers for the Bulldogs first quarter offense.
Junior Antonio Santillan said," Although we took a loss against West Covina, I'm confident as a player and as a team that we will return to our home field in the playoffs, we are ready for the upcoming challenge."
Early on in the first quarter the Bulldogs were able to bounce a run to the outside for a gain of 30 yards which set them up for a 6 yard touchdown run. The score was questionable as the Conquerors stripped the ball but the ruling called the ball carried across the end zone giving West Covina a 6-0 lead. A fumble allowed the Bulldogs to drive down the field for another quick score giving them a 12-0 lead. Los Altos went into halftime down 15-0.
Senior Joseph Gonzalez said," As a team, we came out flat and did not come out ready to play with the intensity and passion that we had in previous games. We understand it's a team effort and need to be more disciplined on and off the field."
Los Altos started the half with a huge stop on defense, which set them up for their first score of the game, cutting the lead down 15-7. Moments later the Bulldogs once again found a break in the Conquerors defense advancing the score 22-7. Junior running back Orellius Visaya scored the final touchdown of the game on a two yard run.
. "The pride we have for our name and our love for the game of football hyped our entire team after we scored two consecutive touchdowns within a matter of minutes," said Santillan.
Los Altos was defeated 22-14, and will take on Aquinas in the Division 5 Southern Section Playoffs this Friday at 7:30pm.
"The team needs to keep playing through the whistle and coming out ready for war. The team will be well prepared as the seniors understand this may be the last time they get to play under the lights and would want to leave the season with a win," said Gonzalez.