Conquerors Wrap Up Season with First Round Exit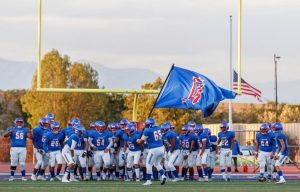 Damien Alvarado
November 2, 2018
The Los Altos Conquerors wrapped up their season with a first round loss on Friday night. The Conquerors engaged in a tough battle against the number 1 ranked CIF-Southern Section Division 5 playoff foe Aquinas.
Los Altos previously lost to the West Covina Bulldogs, and the team made it into the playoffs with an at-large bid.  The At-Large spot put Los Altos up against the defending Division 9 champion Aquinas. The Falcon defense forced turnovers, sacks and only allowed Los Altos to gain 126 total yards.
"It was tough to keep up with them, we made to many mistakes early on which caused the game to get out of hand. "I feel like Aquinas was a beatable team and we had a chance. All week at practice we were going 110% and I thought be were prepared for the game. But their was a reason why they are #1 in division 5," said Senior Line backer Anthony Licea.
It took the Falcons nearly four minutes to score after repeatedly running the ball, which gave them a 7-0 lead. The Conquerors were able to answer back with a score of their own off of a 6 yard run from Junior Receiver Avery Torres. This would be the closest the game would be as the Falcons ran away with the score 48-7.
Senior linebacker Joel Garcia said, "It was a tough game, both sides came out strong. The first quarter 7-7 really got both sides excited. But at the end of the day it came down to who wanted it more and it was them."
Aquinas capitalized on all the Conqueror mistakes such as a recovery of a squib kick, which pretty much shifted all momentum in the Falcons favor.  It only took two snaps for the Falcons to score  a 30-yard touchdown run which  turned a close game into a 20-7 Aquinas lead.
"Although I will never be able to play high school ball again, I am glad I got to play for Los Altos and had a great year," said Licea.
The Falcons persistent run game wore down the Conqueror defense, which capped off the final game for Los Altos football. The team finished the year with a 4-7 record, a win over rival Wilson, and Charter Oak, as well as a first round playoff spot. This team defied all odds as 90 percent of the team is filled with juniors and sophomores. Although the team held a losing record, it is a learning experience and step in the right direction for the future of LA football.