Rivalry Set Aside as a Community Comes Together in Support of Julian Lopez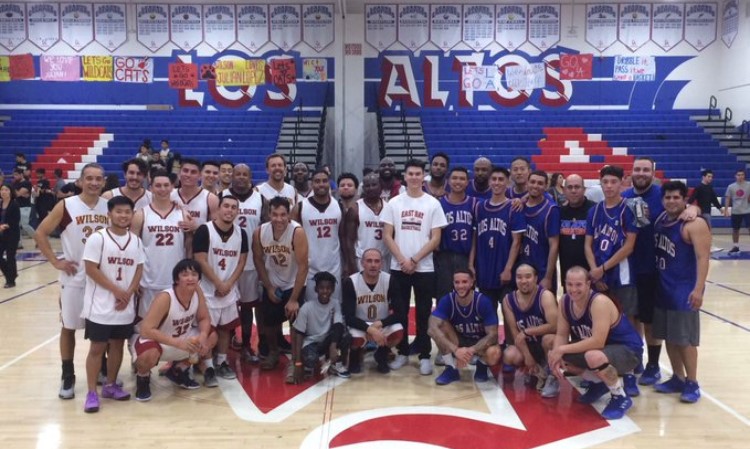 Damien Alvarado
November 8, 2018
The Hacienda Heights community came together on October 30th, as a Conqueror Alumni united the Los Altos and Wilson Family as one. The love and affectionate feelings from both sides were felt as both schools competed in the "Havoc in the Heights" staff and alumni basketball game.
Julian Lopez a 2018 graduate and four year Varsity Basketball player, had open heart surgery four weeks ago in San Francisco. The surgery went well and he is currently in his recovery stage. Lopez will continue focusing on his education at Cal State East Bay after a few weeks at home with his family. The recovery process will be long, and it will be a while before he steps back on the court, but his ultimate goal is to play for the East Bay Pioneers next fall.
Julian's mother Julia commented about her sons surgery, by considering it a blessing in disguise, "It was a surprise for all of us but at the same time we were very thankful because all these years he has played without anything happening, so we were not upset, we were just very thankful and he was very thankful. Faith in our family plays a big role because I believe in God and he has given us love and strength."
In a rare case where one out of a million peopled are diagnosed, Julian found out he had an anomalous coronary artery (ACA). It is a coronary artery that has an abnormality or malformation. Lopez first found out about the news during a routine physical in August. The chest pain he was feeling had nothing to do with his heart but rather a muscle. After further tests doctors found there was something else wrong and informed the family that Lopez would need to have open heart surgery. During the surgery,  Julian's sternum had to be broken in order to perform a successful operation. The recovery time frame for Lopez will take about four to six months before he can return to activity.
"It was unreal because I went from being fine to them telling me I need to have surgery. I look fine, I feel good, I just get tired, and I can't get out there like I used to.  I am limited to what I can do. I am not allowed to open doors or do any type of upper body movement such as pushing or pulling," said Julian Lopez.
Successful heart surgery was performed in the beginning of October, and the Conqueror family held the annual staff, and alumni basketball game vs Wilson in Julian's honor. The events profits were donated to help the family with medical and travel costs. The Lopez family has ties to Wilson, as the oldest brother played at Wilson 5-6 years ago and Julia was apart of their booster club at that time.
Los Altos Senior and best friend Jarod Lucas commented about the unfortunate circumstance Julian has faced and the impact it had on his game, "My first reaction was, will he be able to ever get on the court again? It had a big impact on me because my workout partner could no longer workout with me. As soon as I found out about his condition I decided the next game I would be wearing his number three. He inspired me to keep on pushing on the floor, knowing that he couldn't play."
The gym was filled with intensity as both sides were ready to root for their teams, but not only was there a feeling of rivalry, there was also a real sense of pride and love as both schools set aside their differences and came together as one for a great cause.  Julian was greeted by friends, family, administration, and teachers in what felt like a true homecoming for the Los Altos graduate.
"He is very grateful for all his friends and all of the community reaching out and messaging him. He is very grateful to that and all the prayers. That is what has given him strength. His personality has always been calm, and I think that is what helped," said Julia.
Both games were played with 20 minute halves and were reffed by two officials. The staff game was close but fell far out of reach for the Conqueror teachers and the Wilson staff closed out the game with a 55-41 victory. During halftime the boys and girls varsity rosters were released. The boys team features, Jarod Lucas, Isaiah Barcelo, Devin Lewis, Christian Cavanias,, Dion Porter and many others.. The girls team is highlighted by, Madelyn Roel, Daniel Pineda, Jenica Hernandez, Alexa Gomez, Kiara Moreno as well as others. Both teams roster can be found on Max Preps along with the teams 2018-2019 schedule.
The alumni game was a match-up that featured a three point shoot-out and aggressive defense from both squads. Wilson was running the fast break and  playing great defense as the Wildcats were locking up the Conquerors  making it a block party in the heights. The game was back in forth battle between the two as Los Altos led at half 29-28. After another period of aggressive basketball the Conquerors fell short to the Wilson Alumni 49-47.  The Conqueror Alumni Team consisted of Dustin Heiman, Titus Tiplea, CJ Griffin, Martin Medrano, Darren Miyamoto, Brandon Rogers, Mike Barrera, Christian Espinoza, Gerad Chin, Walter Lee, Wesley Hsieh, Aiden Barcelo, Danny Plascencia and Travis Brown.  A huge thank you goes out to these men and those that participated from Wilson that showed up to help put on this event.
Although the scoreboard said otherwise, there was no winner or loser in either game as this event was a friendly match that helped raised money for Julian's family. Not only did people from the community come together, but other groups like Adidas and Hacienda Heights Pizza Co. also contributed to the event. Adidas gifted items to the Conquerors which were raffled off as 50-50 prizes and pasta as well as sandwiches were donated by Pizza Co.
Lucas commented on the event saying, "It was great to see the community come together and support him, it showed the impact he made on our community. It meant a lot to his family to help out with the financial costs. It was also great to see the legends of our Los Altos Basketball program hit the floor for a great cause. Adidas also showed a lot of support donating shoes and clothes for the event."
The Lopez family were thankful for everyone that supported them thus far and will continue to help Julian continue his journey in college. Julian hopes to complete his Bachelors Degree as a Kinesiology major, and will pursue a career in sports medicine after he completes his basketball career. The road to success may seem like a challenge but Julian is ready to conqueror his way to pursue his dreams.