Los Altos Choirs: From on-Stage to on-Screen
The choir students of Los Altos debuted their first online concert showing pieces performed by Mens Choir, LA Rhythm, and Prestige.
The virtual choir was a compilation of songs performed by a choir, each part filmed separately and edited together to create a cohesive product.
Many choir programs are opting for virtual choirs this year to stay socially distanced and to prevent the spread of COVID-19.
This performance included nine different pieces, including a conjoined song with LA Rhythm and Prestige.
The show also included show choir elements, where students sang and danced rather than the conventional standing and singing.
Shifting to an online platform has become the only way to perform for large audiences.
The choir program creating this virtual performance gives hope to other performing arts groups at LAHS to be able to share their craft during this isolated year.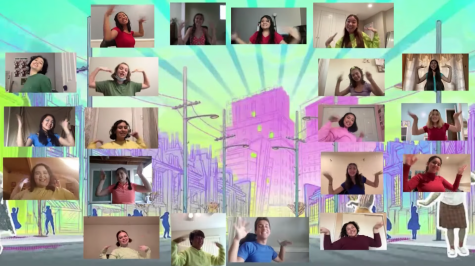 Prestige President Celeste Guerrero said, "This concert was undoubtedly unique compared to previous years. It was different for everyone, but I loved that we were supportive and worked together to still put on an amazing show".
For some students, being in choir is completely new to them, making their first-ever performance an online one.
Junior LA Rhythm singer Selah Villa said, "It was definitely fun to watch the whole performance come together for the first time with my family and feel like I'm in the audience but also be proud that I'm performing."
To create this virtual choir, students had to record on two different mediums. They recorded their voices on an online platform called Soundtrap and recorded their videos using a regular camera.
"Recording both visuals and vocals was difficult at first and sometimes still hard to do, but it got easier the more we had to do it. I did experience difficulties here and there but I always asked my fellow choir friends to help me when I needed it," said Guerrero.
From the students, Mr. Fahey, the choreographers, and the editors, many hours were spent to create the final product.
So far, the virtual choir has gained over 1,000 views on YouTube.
Villa said, "I am looking forward to doing more virtual choir concerts because, even though it feels awkward and embarrassing to watch myself, it was something so nice to have worked for this during such a difficult adaptation to distance learning and have it clear my mind for a moment from all the struggles".
Leave a Comment