Dark Cartoons, Bright Colors: Artist Grows Business Fwitos222
Junior Bela Santiago spends her days painting canvases with dark images contrasted with splashes of bright colors, all representing her loved ones and innermost thoughts.
She is now sharing her passion with supporters by selling pieces people can take home, manifesting her creative energy into art pieces sold on her online business, Fwitos222.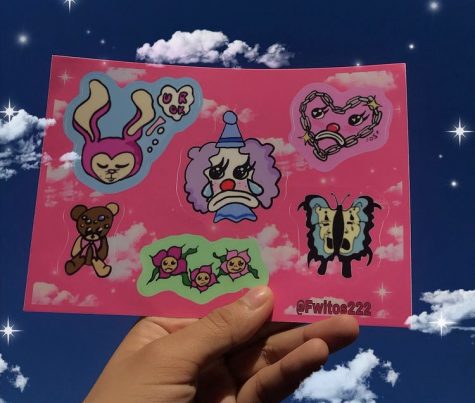 Since May, Santiago's business has taken off, with over 600 followers on her Instagram account @fwitos222 and sales through her website and local art vendor events.
"I decided to start this little art business by making stickers that I made on my computer, just to do something fun during quarantine. The day I published them on my account was the day they sold out, so I thought, 'Woah people like my stuff, I wonder what else I could make'," Santiago said.
Various characters are commonly used on Santiago's products; Payasa, a flower with a sad face representing Santiago, a bunny, and a bear representing her partner. Santiago's darker images are surrounded by contrasting designs such as hearts, small stars, and a sprinkle of glitter.
"I like to think that I'm more on the 'cartoony' side when it comes to my paintings, my work also reflects how I feel so when I get ideas in my head my personal feelings come out as well and reflect on the pieces," said Santiago.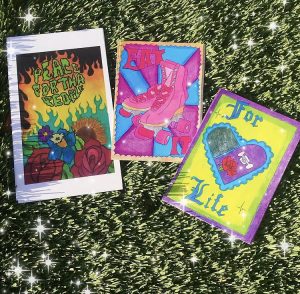 Despite the challenges of running a business while being a student, Santiago stays motivated and continues working on future projects aimed to expand her business and reach more people.
Santiago said, "A highlight of my business is when people text me and tell me that my work inspires them or seeing someone at an event and hearing that they follow my Instagram and love my work. Support is one of the biggest things that motivates me to make art, especially when I go through art block. Even when I'm feeling unmotivated, I just have to stay positive and be happy that I'm able to put out work that I love."
Santiago's aesthetic is projected through her business' visually pleasing Instagram page, @fwitos222, appealing to her majority Gen Z audience. Darker images painted with bright pinks and soft pastels can be seen on an array of products sold on Fwitos222, including tote bags, pencil pouches, prints, and her newest addition, t-shirts.
Leave a Comment