New Lunar New Year, New Hopes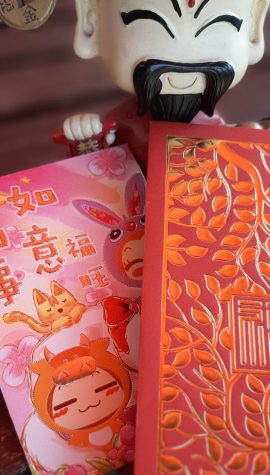 As 2020 ends on the Western calendar, the Lunar calendar also welcomes 2021. On February 12, 2021, the year of the Ox will begin and along with it an expectance of fortune and rewards.
Each Chinese New Year on the Lunar calendar is accompanied by a zodiac animal. Each zodiac animal has its own traits and fortunes for the people.
The year of 2021 is accompanied by the Ox, which represents hard work, perseverance, and reliability. In times of a global pandemic, such traits are greatly needed.
Junior Megan Hackbarth said, "These positive traits of the Ox in the year 2021 will encourage many people to remain strong and preserve through the difficulty many may face. These traits are especially fitting and needed by everyone to recover from the COVID-19 pandemic."
2020 was an extremely difficult year, and the introduction of the Ox in 2021 encourages people to persevere and remain responsible in order to slow down and ultimately stop COVID-19.
"2021 is a year that work and effort will be rewarded. Oxen are hardworking, which relates to the people during the COVID-19 pandemic in terms of following rules and regulations. People must be like oxen (follow rules and work hard). The Ox zodiac sign symbolizes the year where everyone globally will feel the weight of our responsibilities to follow mask mandates and stay-at-home orders. We need participation from everyone around the globe if we want our medical problems to be solved," said Hackbarth.
Apart from the fortunes of the Ox, people also eat a variety of dishes and put up different decorations to further welcome the New Year's fortunes and rewards.
Hackbarth said, "Chinese New Year is a time when family comes together to feast and eat dinner. I celebrate Chinese New Year with my family by preparing and eating a meal together. We have many dishes such as dumplings, sweet rice balls, and spring rolls."
Chinese New Year dishes hold special meanings. Dumplings symbolize prosperity, sweet rice balls symbolize togetherness, and spring rolls resemble gold bars and symbolize wealth.
People also put up various decorations around the house for Chinese New Year. Chinese red lanterns, kumquat trees, and paper cuttings are just a few of the many decorations.
The year of the Ox is a wonderful encouragement to not only Chinese people, but for the world as well. With the many traits and fortunes the Ox holds, 2021 will hopefully be a year of healing, safety, and the end to a global nightmare.
Leave a Comment