Macaron Madness: Student Bakes Her Way to Success
Baking holiday treats with her mom ever since she was little, senior Monica Ochoa took the extra step and created a small business through Instagram.
Her business, @monicas.macs, focuses on different flavors of macarons and has garnered over a hundred followers since its start in late December.
"I always enjoyed making desserts for the holidays with my mom, and we would make so many different kinds- banana bread, cookies, pies, and cheesecake are a few. I've only been making macarons for a year now, but I've gone through hundreds of batches to see what recipes worked for me," said Ochoa.
At the moment, Ochoa only bakes macarons, but she does not limit the flavors and takes requests from customers when ordering. Some of the unique recipes include matcha, blueberry cheesecake, and even earl grey tea, all packaged in a cute box with a "Thank you!" sticker.
"I've had this dream for a while to one day open my own dessert shop and sell the pastries that I've created and perfected. To make that a reality, I thought it would be beneficial to start now and get as much practice as I can. Also, with COVID, I've had more time in my day to actually start a business, and it's given me great opportunities," said Ochoa.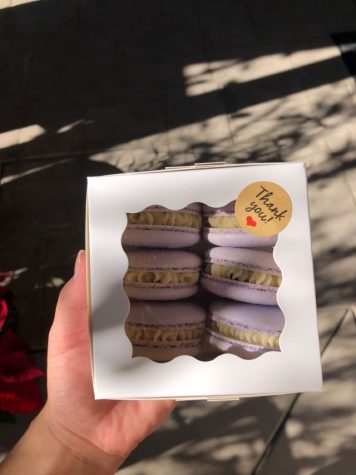 This business has proven to be a great help. Ochoa applied to be a vendor at Whittier's 562 Flea market, an event that has gained much attention in the last year. Her application was accepted, saving her a spot to set up for their January 31 event. There, she was able to make a great profit and gained several new followers who made the pre-orders for her Valentine's Day Special sell out quickly.
"It is always good to take small risks in life and to put all your effort into creating a small business. What helped me the most was spreading the word to my friends at school, work, sports, and eventually, those people can help you by continuing to talk about your business," said Ochoa.
Leave a Comment