Recieving the Vaccine at Dodger Stadium
On January 15, the infamous Dodger Stadium was transformed into a mass vaccination site to increase Los Angeles' population of vaccinated individuals.
Esther Sibal, manager at the San Gabriel Pomona Regional Center, received her first dose of the vaccine at Dodger Stadium.
Regional Center Employees are listed under Phase 1A Tier 2 in Los Angeles County's vaccine distribution plan. Receiving the vaccine will help ease theirjob of aiding mentally disabled citizens throughout Southern California.
"I had to weigh the risk of the possible side effects of the vaccine versus the risk of getting COVID. I trust that the science behind the vaccine is correct," said Sibal.
Eligible residents can schedule appointments to receive the vaccine online through the offical Los Angeles County Department of Public Health website.
Although Sibal was able to schedule an appointment, she did have some reservations about the accessibility of the website.
Sibal said, "My concern is that our most vulnerable populations, the elderly and individuals with disabilities, might not have access to the technology needed to schedule an appointment. We need to make sure that these people have the support they need to navigate the website."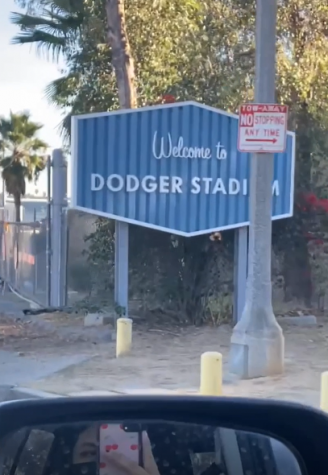 When arriving at Dodger Stadium, workers will guide your car through a maze of cones to wait in line. When reaching the front of the line, they will guide about 10 cars into one of ten available lines.
"They were really well organized with tons of staff, signage of where to go, and their screening process. Overall, I was very impressed with their work," said Sibal.
In the line of cars, a medical professional will come to your car, verify your identity and appointment, and then give you your vaccine. The total process took less than 3 minutes.
"It caught me off guard because the screening process went by so quickly. The nurse pulled the needle out and gave me the shot. Once it happened, it happened quickly," said Sibal.
Lastly, you will have to wait for about 15-20 minutes to make sure that you will not have an allergic reaction to the vaccine.  The whole process took less than an hour to complete.
Currently, Los Angeles County residents ages 65 years and older are eligible to receive the vaccine at a local hospital or one of many mass vaccination sites. These sites include but are not limited to Cal State University Northridge, Magic Mountain, The Forum, County Office of Education, Pomona Fairplex, Disneyland, and Cal State Los Angeles.
Once a majority of California residents receive the vaccine, different establishments will be able to open up again at higher capacities, and more importantly, safely.
For more vaccine information, visit the Los Angeles County of Public Health Department website here.
Sibal said, "It's a very personal choice and I understand the hesitation behind it so I would just advise people to do their research and read reputable literature from the experts to battle misinformation."
Leave a Comment